Help! I'm my parent's retirement plan! (Soledad Says #10)
Apr 23, 2022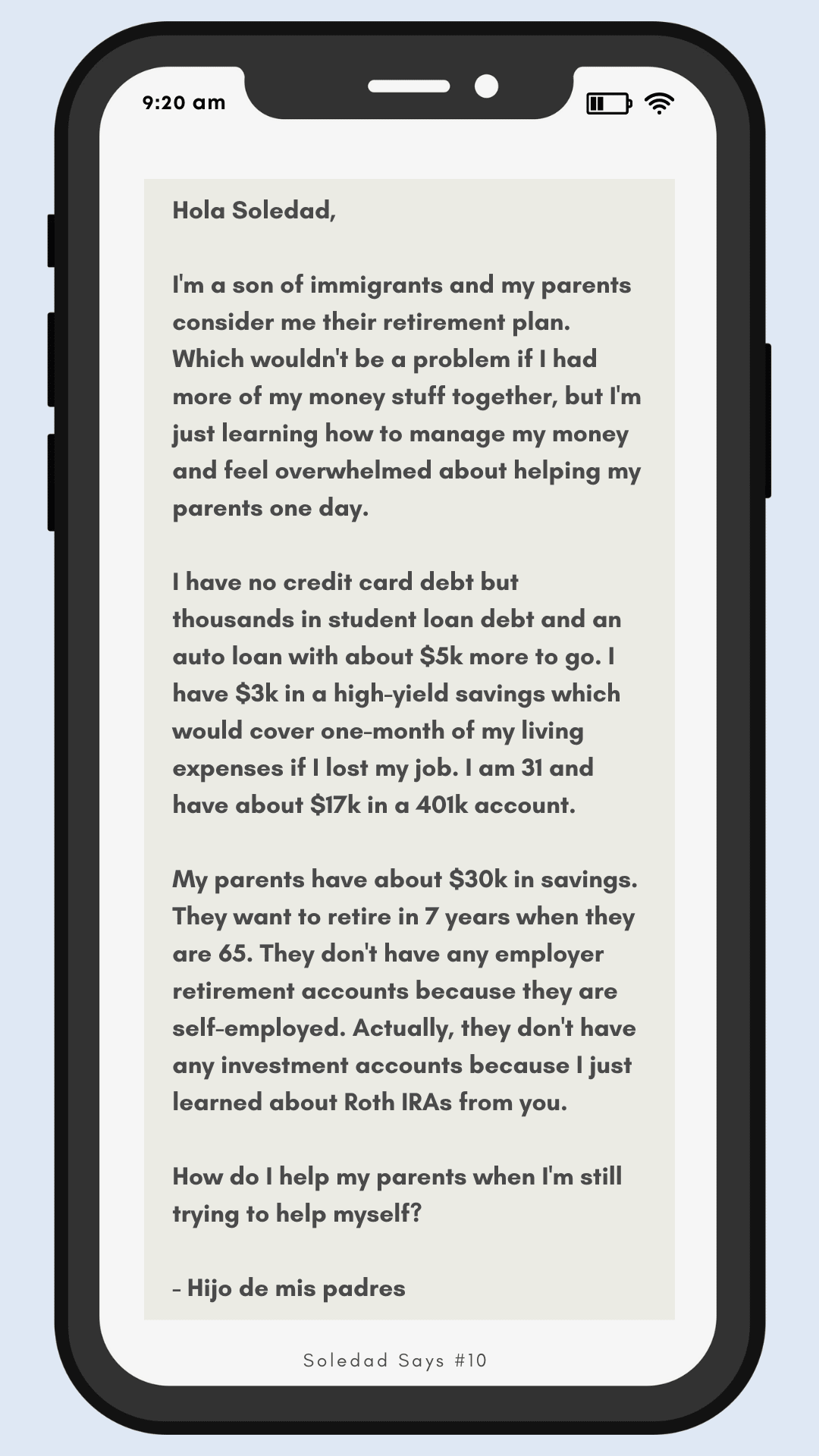 Dear Hijo de mis padres,
You are a blessing to your parents. Do you know that? I imagine you have a good relationship with your parents and are interested in supporting them because they have been very supportive to you. I'm glad you have had access to this family dynamic!
With that said, I believe completely that it is possible to build financial security for yourself and your parents poco a poco. Our scared and overwhelmed brains will think in binary terms and have us believing that change isn't possible. However, there are many different paths that could put you on a track to retire early while still supporting your parents. The more clarity you have around the following, the better.
(1) What can your parents expect from social security?
Go to ssa.gov to create a "My Social Security Account" for both of them. You will need their full name, social security number, dates of birth, home address, prime phone number and an email address to start setting up their account. I suggest you do this with them because you will need to answer five security questions that you may not know the answers to.
Once you enter that info you will verify the information you entered by entering a security code and then you will set up a username, password, and reset questions. Check out this highlight on my Instagram account for step-by-step instructions.
(2) What are your parents annual expenses?
A quick way to calculate this is by identifying their take-home pay and multiplying it by 12. This number may be higher than their actual expenses because they may be saving each month but it will be a good estimate of their annual expenses. It is recommended that at retirement, someone should have one year's worth of expenses in cash. Once you have an idea of what your parents annual expenses are and what they can expect to receive from social security, you can create a plan to find a way to supplement the difference.
(3) What can your parents afford to invest each month starting today?
Depending what your parents can afford to invest each month, you can decide what type of investment account they should open. Since your parents are older than 50, they will be able to make "catch-up contributions" for some retirement accounts.
A Roth IRA and a Traditional IRA will have a maximum contribution limit of $7k a year.
A Simple IRA has a maximum of $17,000 from employees and then an additional contribution of 3% of their salary as an employer with a total maximum of $58,000. (Your parents would contribute both as employees and employers.)
They could also open a SEP IRA which will require more paperwork but allow them to invest as employers up to 25% of their salary with a maximum of $61,000.
Finally, they could open up a Solo 401k which would allow them to contribute $27,000 as employees and an additional contribution of 25% of their salary as employers for a maximum of $67,500.
Knowing in advance what they can afford to invest will help you choose an account that shelters their investments from taxes.
(4) How would you like to support your parents' retirement?
You may decide to help your parents at retirement by living with them and paying their mortgage/rent to reduce their monthly expenses. You may decide to pay for one or more of their utility bills. You may want to find a way to help them contribute more to their retirement accounts or even open up a taxable brokerage account to invest on their behalf. There are many ways you can support your parents and only you can determine what feels right for you. Please know that by increasing your financial literacy you are already helping them.
(5) How much money, time, and energy can you afford to give your parents without sacrificing your own wellbeing? Understanding what you have the capacity to give is key to being able to support your loved ones without building resentment, frustration, and overwhelm. Remember that your number one responsibility is your wellness. Only the healthy and financially secure version of you will be able to truly help your parents. Keep building your emergency fund, keep paying off your debt, and keep investing for your own retirement and give yourself grace as you adjust how you support your parents during the different seasons of your life.
A lot can happen in 7 years so even if you are feeling overwhelmed right now, know that those feelings are temporary. Poco a poco, you can take actions that will make you feel like you DO have your "money stuff together." And if you are ready to commit to taking those actions now, use this link so we can work together for the next 6-months to create a financial plan that puts you on a path to retire early while supporting your parents.
​
Todo con tiempo,
---
ANNOUNCEMENTS + REMINDERS
Join me on Wednesday, April 27 at 10AM HST/1PM PST/ 3PM CST/ 4PM EST for a powerhouse panel discussion hosted by Womens Way addressing the barriers and unique factors that impact a woman's ability to save and plan for retirement. This is an event you don't want to miss! Register for FREE at: womensway.org/retirement​
​
Watch the replay of my IG Live with Yuritzy Gomez Serrano , a Trauma-Informed Somatic Coach right here. We discussed how trauma can impact decisions, ways to use your senses to ground yourself and how to find balance with self-care despite everything going on in your life.
​
Check out the Healing to Financial Security .pdf Workshop Slides. Yuritzy and I hope those who attended our workshop live and those who review the slides learn strategies to develop their mental and emotional resilience on their journey towards financial freedom.