Help! I need to buy a car! (Soledad Says #4)
Feb 05, 2022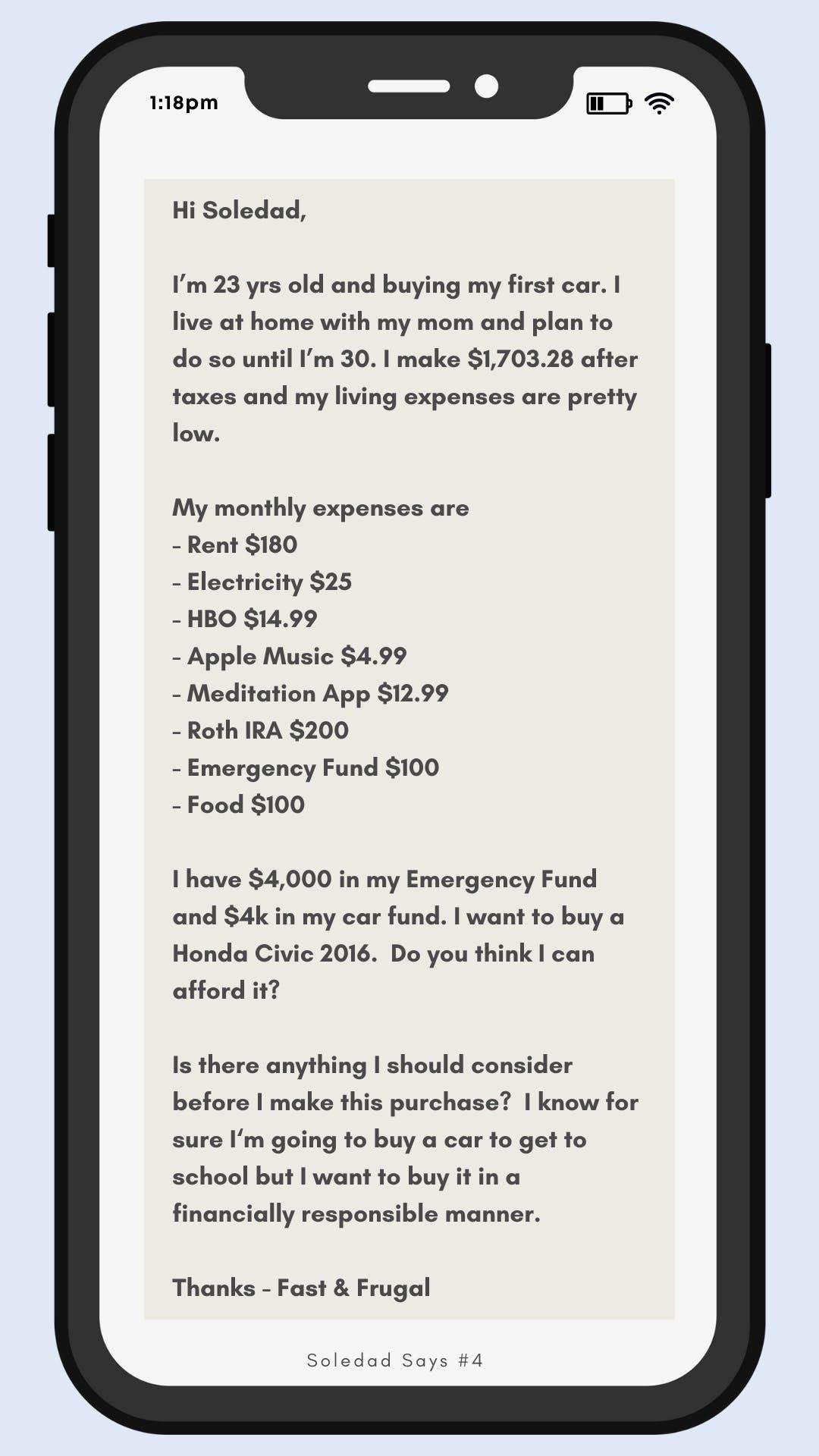 Dear Fast and Frugal,
You are probably too young to be familiar with this but Suze Orman, a Lesbian Personal Finance Expert, used to have her own TV show and there was a segment called "Can I afford it?" Your question reminded me of the series and I feel so cool being able to channel my inner Suze Orman today. 🤪
I searched Edmunds, an American online resource for automotive inventory and information to find the lowest and highest price a Honda Civic 2016 is being sold for. Since you are buying a 6 year old car, a reasonable mileage is 72,000 since the average driver puts 12,000 miles on a car each year. When I searched for 2016 Honda Civics with less than 72,000 mileage, I found the lowest price to be $17,499 and the highest price $22,998.
Now depending where you purchase your car, you will also need to prepare to pay for sales tax which can range between 0% to 7.25% depending on the state. In Los Angeles, the sales tax is 9.5% so this would mean an additional $1,662 if you were to buy the $17,499 Honda Civic. Since you have $4,000 saved towards the down payment, you should be prepared to get a $16,000 auto loan to cover a total cost of $20k.
Your auto loan interest rate is a BIG deal. The better your credit score the lower the interest you can get on your auto loan. I would suggest you try to get pre-approved for an auto loan at a bank or credit union instead of getting a loan from a dealership since they tend to provide lower interest rates.
If you get a $16k auto loan with 2% interest with a 60-month term length, you can expect to have a $280 car payment and only pay $827 in interest. If you get an auto loan with a 5% interest rate, you can expect your car payment to be $302 and for you to pay a total of $2,116 in interest. 🥴
You may want to go with a longer term length to decrease your interest rate. Just make sure that there is no penalty for making extra car payments and paying your loan off in full ahead of time. Google "Car Loan Calculator" and insert different numbers before you sign any auto loan agreement.
Now other costs you need to include in your budget are auto insurance and gasoline. According to this article, the average rate of auto insurance for a 23 year old female is $326. The current average cost of gas in the United States is $3.42. (In Los Angeles, the average cost is $4.71 😭) Since a 2016 Honda Civic can 12.73 gallons, I would budget around $200 a month for gas.
Currently, you have a positive discretionary cash flow of $1,065.31 (Monthly Income - Monthly Expenses = Discretionary Cash Flow) Ideally, your auto loan payment, cost of gas, and car insurance can stay around a total of $750 so that you can still have about $300 of extra cash flow. If you feel financially secure enough to live paycheck to paycheck you could in theory afford a higher car payment, but if I were you, I would keep that extra cash to go towards funding road trips or contributing more to your Roth IRA. 😉
Congrats on this financial milestone! You can totally afford to buy a car. I'm excited for your wealth building journey especially because if you keep contributing only $200 a month towards your Roth IRA and have an average rate of return of 7%, should have around $625,000 in tax-free money at 65 years old. 🤑
​
Todo con tiempo,
P.S. Please forward this email to anyone who could benefit from my weekly emails about dinero. They can subscribe at this link. And if you or a loved one is interested in working 1:1 with a financial coach, apply here to work conmigo.