Help! My Mom is a hoarder! (Soledad Says #11)
May 07, 2022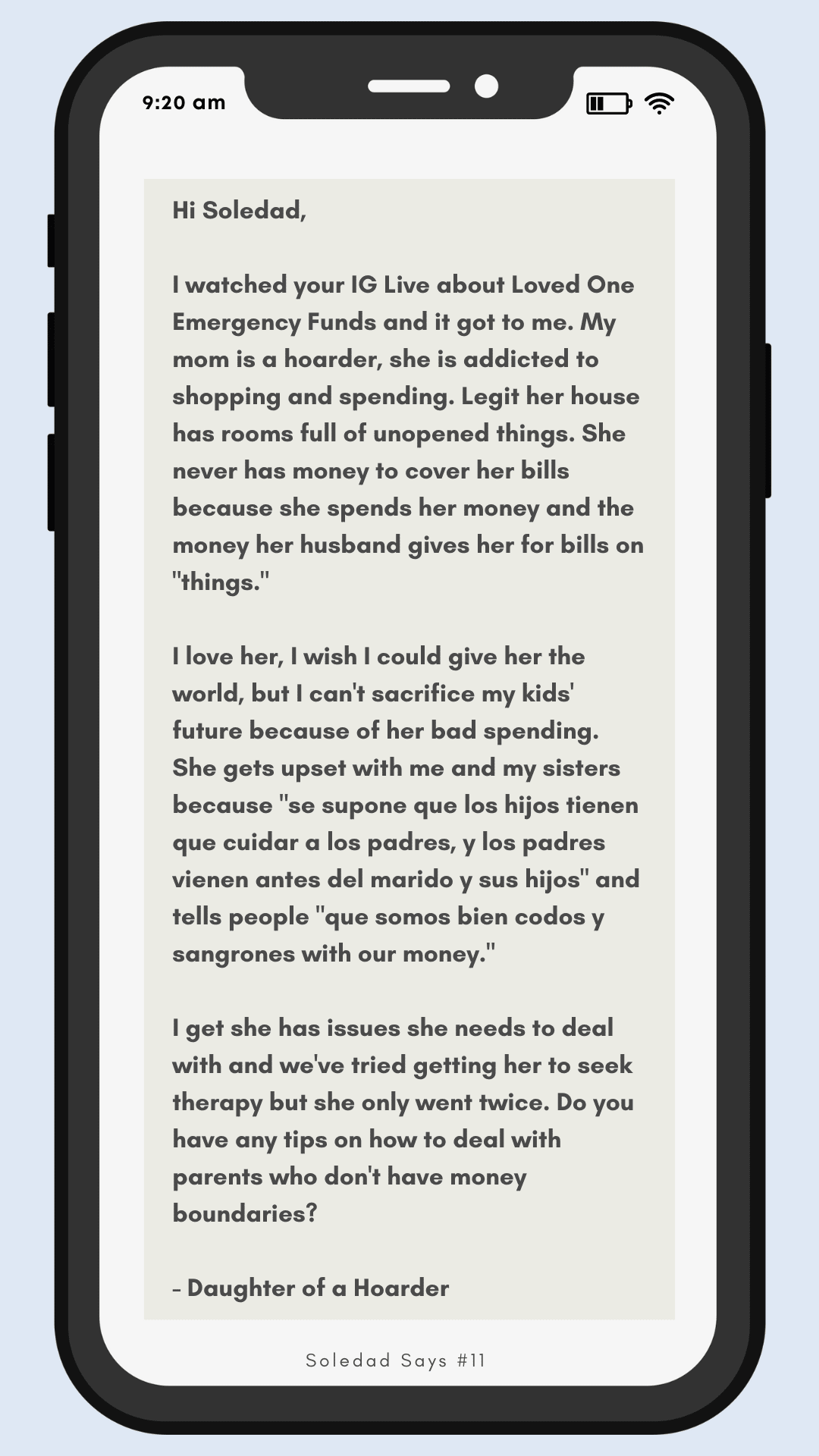 Dear Daughter of a Hoarder,
According to the National Alliance on Mental Illness (NAMI) Massachusetts, up to 5 percent of the world's population displays symptoms of clinically-diagnosable hoarding. I have loved ones that are hoarders and I expect many people on this email list do as well. I share this because it is difficult to be a child of a parent whose mental illness interferes with the parent-child relationship. So I want to start off by sending you abrazos y besos for asking for tips.
I want to make sure you know that you are a very loving daughter NOT a "sangrona" and that your personal money boundaries do NOT make you "coda." I imagine that your mom isn't in an emotional place where she is capable of engaging in respectful dialogue about how those labels and her financial habits make you feel. Even with therapy it can take years for people to learn how to communicate respectfully, process their emotions, unlearn previous coping mechanisms, and learn new ways to ground themselves. 😩
I also want to point out that the belief that "children should take care of their parents, and parents should come before a spouse and kids" serves many people who do not live in countries where retirement is something that can be planned for. Being raised by a parent who has little familiarity with the financial systems in the United States can feel overwhelming because the child has to navigate learning these financial rules for themselves, their parents, and their children. That's a lot of responsibility for one individual to carry alone.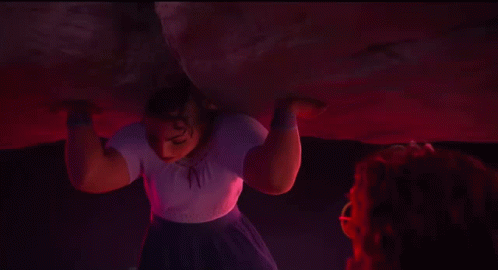 As for your question, "What tips do you have to deal with parents who don't have money boundaries?" I offer you the following steps to consider.
Step 1: In order to end cycles of financial insecurity, we must become financially secure ourselves. Make sure you create a spending plan for all money that comes your way and monitor your extra cashflow. Make sure that you are saving for emergencies in an account that gives you at least 0.5% APR. Make sure that you have a debt-pay off plan. And make sure that you are investing consistently for your own retirement. If you are consistently engaging in these habits for yourself, then you can move on to the next step.
​
Step 2: Reflect on your thoughts and feelings around helping your parents. Journal or talk to a friend/financial coach/therapist about your desire to help your parents. What do you hope happens as a result of you helping your parents? Why do you have that hope? Do you feel comfortable communicating this hope with your parents? What are you afraid will happen if you don't help your parents financially? Where does that fear come from? Can you hold space for that fear without taking any action? Once you are clear about your own motives about helping your parents, then you can move on to the next step.
​
Step 3: Review your budget to see what you can afford to give without jeopardizing your financial security. How will giving this money to your parents impact your extra cashflow for the month? Can you afford that temporary limitation? Will you need to pull money from a savings account? What plan do you have in place to refund your emergency savings? How much can you put on a credit card while staying below the 30% utilization rate? How quickly could you repay that debt off? I strongly suggest never lending any money out that you can not afford to never see again. Lend only what you can absolutely give. If you have a clear financial plan for how to support your parents, then move on to the next step.
​
Step 4: Make a decision about whether to help your parents. At this point you have habits that support your financial security, you have thought about your motives for helping your parents, and you even have a financial plan in place to do so, now you make a decision whether you will help your parents. Will helping your parents make you feel resentful? Will you feel frustrated later when you can't afford to buy something because of how you helped your parents? Do you have self-care routines in place that will support you processing these emotions? If you feel you can help your parents while protecting your mental health, move forward with paying for a specific bill. If not, then communicate with your parents that you are unable to help them financially at this time and give yourself grace as you process your feelings about that decision.
​
When you have a parent who struggles with emotional spending, I suggest you pay for a specific bill instead of giving them cash. You may consider taking over a utility bill, adding them to your cell phone plan, and/or writing a check directly to a landlord/bank to help with their housing costs. Unfortunately, giving them cash or depositing money in their bank account may result in them not using the funds for their actual expenses.
I hope if anything at all you understand that having a parent with no money boundaries is difficult. I hope you can give yourself permission to feel all your feelings about the situation without judgement/shame. I hope you can shower yourself with compassion as you continue to navigate these difficult circumstances. And I hope you give yourself the time to figure out what works for you because at the end of the day, only you know what works best for you.
​
Todo con tiempo,
---
​​ANNOUNCEMENTS + REMINDERS
Watch the replay of my IG Live on Loved One Emergency Funds. I answered the following questions: (1) Who needs a Loved One Emergency Fund? (2) What is a Loved One Emergency Fund? (3) Where to keep your Loved One Emergency Fund? (4) What should you consider when you are giving or lending someone dinero? And more! ​
​
This Wednesday, May 11, 2022 at 9am HST/ 12pm PST/ 2pm CST/ 3pm EST, I will be going live on Instagram to talk with Maribel from @OurWealthMatters about how to invest with an ITIN. Join me live or watch the replay on Instagram.​
​
On Wednesday, May 18th, 2022 at 1pm HST/ 4pm PST/ 6pm CST/ 7pm EST, I will be hosting a virtual workshop titled "Self-Care Your Way to Early Retirement." I will be teaching about the FIRE movement, why self-care is pivotal to your financial independence, the 7 types of rest that need to be part of your self-care routine, and limiting beliefs that can disrupt your self-care and how to overcome the. You can register for FREE here. ​
​
I have 3 coaching spots opening up in June 2022 and 2 spots opening in July. If you are interested in working 1:1 with me to create your financial plan to retire early, apply here. ​