Help! Should I invest my student loan savings? (Soledad Says #9)
Apr 09, 2022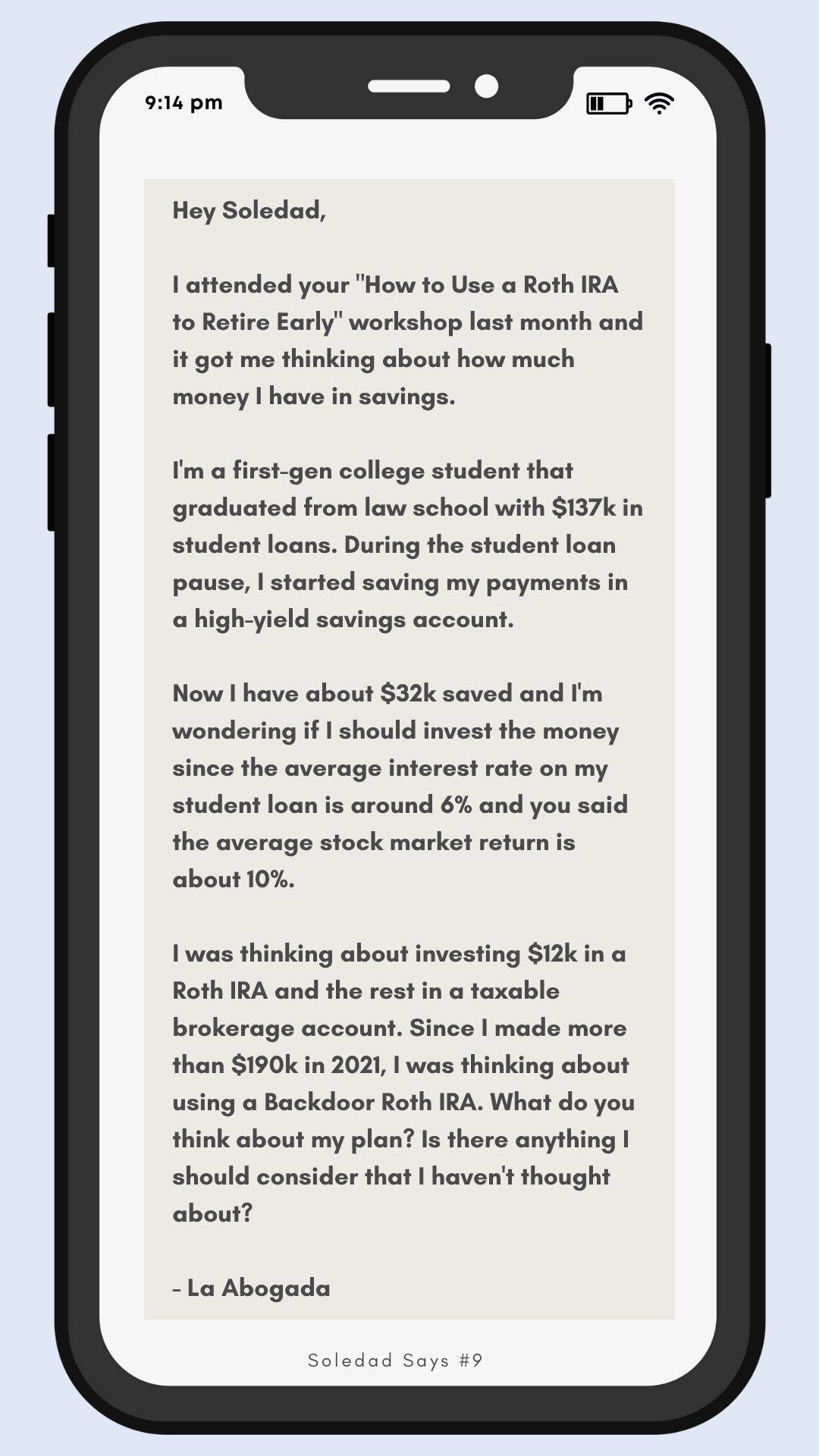 Dear La Abogada,
I'm so glad you attended my "How to Use a Roth IRA to Retire Early" Workshop. Since so many people attended, I decided to record a 20 minute version that is now accessible to anyone who confirms their subscription to my newsletter. Since you're already subscribed, you can watch it here!
Felicidades on not only being the first one in your familia to attend college but also graduating with a law degree! Please know that you have an entire community here at Wealth Para Todos proud of your perseverance.
I'm glad to hear that all of your student loans qualified for the pause. Unfortunately, I know so many people who had to keep making payments throughout the pandemic because their student loans were not being managed by the federal government. 😩 😩 😩
I'm so happy that you were in a financial position that allowed you to keep sending your payments to a high-yield savings account during the student loan pause. I have clients who have used this time to pay off high-interest debt and save for an emergency fund. It's a skill to live below your means and it seems that you have mastered that skill!
May your income continue to be high and
your living expenses be low
so your extra cash flow can multiply!
Okay, enough of my poetry, let's talk dinero! 😜
The average stock market return is about 10% BUT there are years that returns are a lot higher or a lot lower. What you choose to invest in is going to impact your returns. If you choose to invest in an index fund that tracks the S&P 500 then your returns will be closer to 10% (before inflation.) However, keep in mind that VFIAX, a Vanguard Index Fund that tracks the S&P 500 currently has a YTD return of -4.61%. 🥴 You can read more about stock market returns here. ​
Past performance in the stock market does not predict future performance. Investing is always a risk, however the longer you can "hold" your dinero in the market, the more likely you can see some great returns. I wonder how long you want to keep your $32,000 invested in the stock market. Let's say you invest your dinero for 5 years, with a 7% rate of return you can expect to see your $32,000 grow to around $44,000. Would this $12,000 increase be more than the amount of student loan interest you've gained in the same time frame?
Ultimately, we can calculate the exact amount you can expect to have your student loans increase but there is no way to know for sure whether money invested in stocks will outperform that interest. Especially since your rate of return after paying long-term capital gain taxes may be less than 7%.
Now let's say you decide to move forward with investing your dinero. Since you make too much dinero to contribute directly to a Roth IRA, you would have to complete the Backdoor Roth IRA process. However, you can only pull out the amount you converted after 5 years to have penalty-free access. Only contributions to a Roth IRA can be withdrawn at any time penalty-free and tax-free. Money put into a Backdoor Roth IRA is considered a "conversion" so you will have to wait five years to touch pull that money. You will only be able to put $6,000 in the Backdoor Roth IRA for 2022 since time has already passed to complete the process for 2021.
Now something that would take less time than a Backdoor Roth IRA and won't require paying state taxes on gains is investing in Series I Savings Bonds. Through April 2022, i-bonds have a guaranteed rate of 7.12%, a lot higher than what the average Certificate of Deposit is offering right now. You can cash them after one year but you will lose interest from the previous three months of interest. After five years, you can cash the i-bonds and get the full amount of interest. However, you can only buy a maximum of $10,000 worth of i-bonds a year.
Thanks so much for asking your question! What you decide to do next is going to be based on your risk tolerance for investing and your tolerance for debt. The good news is that since the student loan pause has been extended to August 31, 2022, you have more time to decide and your dinero in the HYSA is still earning interest. 🥳 🥳 🥳
​
Todo con tiempo,
---
ANNOUNCEMENTS + REMINDERS
​Starting May 15th, I am taking new clients again! Fill out an application to work 1:1 conmigo here so we can schedule a 45 minute complimentary call to ensure that I'm the right financial coach for you.
​
On Wednesday, April 13, 2022, I will be going live on Instagram at 9:30am HST/ 1:30pm PST/ 3:30pm EST with Viviana Vazquez from @overgenpoverty to discuss her journey from leaving the classroom to securing her first 6-figure base salary.
​
Watch the replay of my IG Live with my my Chief Financial Officer Shannon Weinstein right here. We discussed how managing your business finances is critical to growing your business, mistakes business owners make, and so much more!